I apologize in advance for the poor quality of these photos. Santa did not bring me the $900 DSLR camera that I wanted because Santa was strapped due to some major renovations at the North Pole. It's okay, Santa, I understand. And my birthday is in 2 months. ;-) Not that you do birthdays..
Here is our freshly painted red door, white trim, and the new window treatment (taupe Roman shade):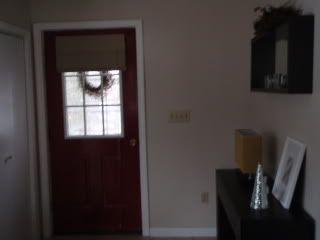 (Note to self: Replace all switchplates and outlet covers with stainless ones. Yeek.)
Here is the front entry way console table and mirror.
(Yes, the peachy-pink tile is on our list... Our long, ever-growing List-with-a-capital-L.)
The bar-room holds the Christmas tree. Coincidence? Ask Tony how much I drank this holiday season. Nevermind, don't:
Dining room:
Front room:
The curtains in the bar and front room were recently purchased (Sarah) and put up (Tony). They make me feel all warm and cozy.
It may not look
that
different to those who have seen it before, but we put a lot of sweat and paint and detail work into the common areas so far. I'm happy and proud of us.
Although Santa didn't get me a super duper expensive camera, he did get me a ton of cute and practical accessories for the kitchen to go along with our new appliances. Once I get enough energy to unpack everything and pick up the clutter, I'll be sure to post more pics.
From both of us, I hope everyone had a great holiday!