This past weekend was my 30th birthday party. The milestone of the big 3-0 was barely a blip on my radar. Years past have hit me much harder. I think with each passing year, age means less and less to me. The 20's were great, but I'm ready to bring on the 30's!
The party was such a fun time with friends and family... Tony, my sisters, and my mom went above and beyond (yet again!) with everything and it was great to let loose for the first time in... 10, 11 months? Wow, it's been a while. Let's just say that this weekend I learned the art of '
pump and dump
.'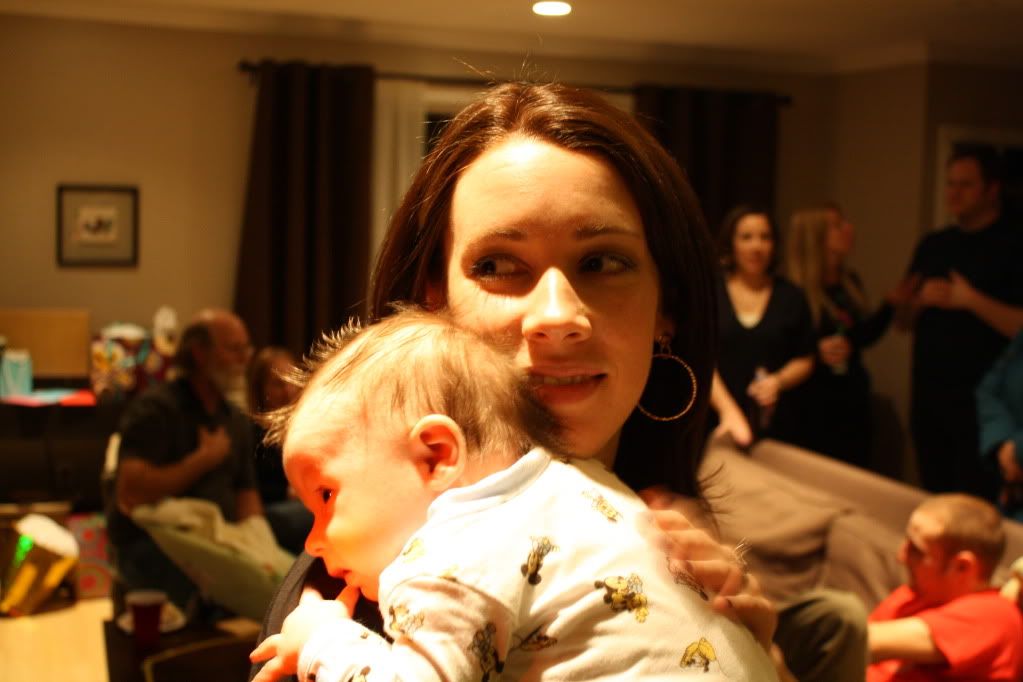 (This is a Tiffany necklace engraved with the letter "D" given to me by my mom and sisters. I nearly cried when I saw it.)
Desmond was a perfect gentleman, if sleeping through most of the party makes someone a gentleman. This was also a chance for him to meet a lot of new people, including all of my Braintree friends. Des is the first baby for my group of friends, so all my girls and guys were pretty fascinated by the "hot new accessory of 2010." I really hope they can see more of him, once I become less of a hermit.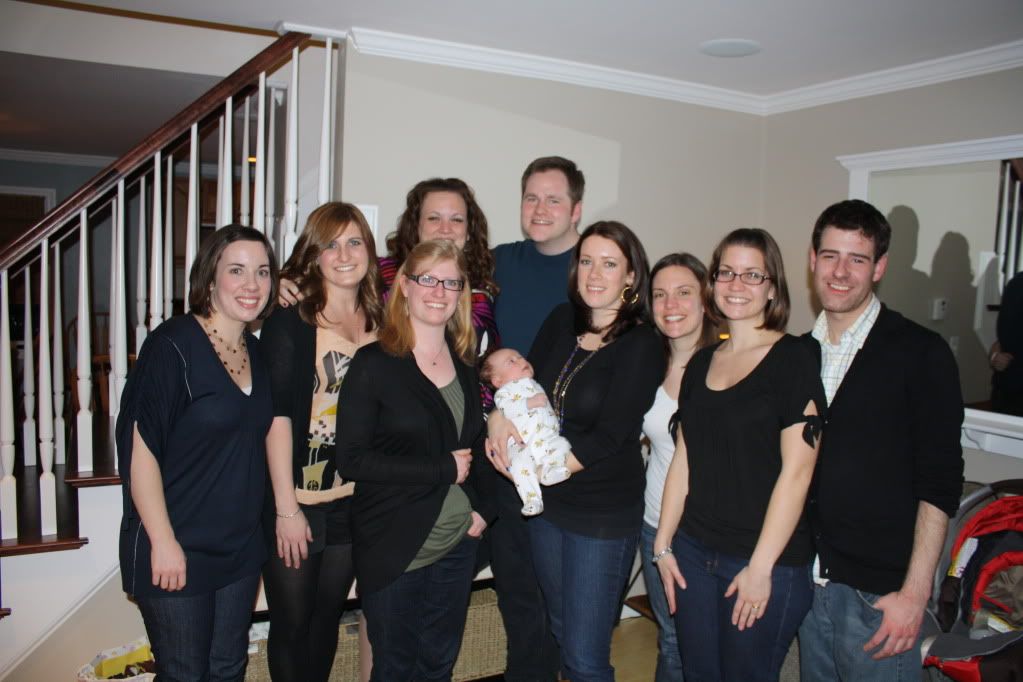 Braintrees!
I was asked by a curious friend what a typical day is for us. Although as soon as it seems we have some semblance of a 'schedule' down, things change LIKETHAT. But I do try to keep some sort of a routine throughout the day. So here it is. These are VERY rough estimates, obviously:
6-7am
: Wake up, feed baby
7am-8am
: Daddy watches Des while Mommy takes a shower and gets dressed. Yes, I do try to bathe and put on "normal" clothes every day, as opposed to sweats, even though I rarely leave the house. It makes me feel human.
8am-9am
: Daddy leaves for work, Mommy and Des make our way downstairs for the day
9am-10am
: Feed baby, try to make some coffee and breakfast for myself. Usually Des is good enough to sit in his bouncy chair and just hang out while I eat and check the internets. But sometimes he's fussy and I have to hold him the whole time.
10am-12pm
: Des will usually nap for a good hour or so, during which time I will try to put minimal make-up on (see above re: feeling human), wash dishes, do laundry, clean house, etc. Today I updated my blog!
12pm-1pm
: Feed baby, try to feed self
1pm-2pm
: TBD...
2pm-3pm
: Des and I will both usually take an afternoon nap in our bed upstairs. This is one of my favorite parts of the day! Cuddles and coos and rest. Nothing better.
3pm-4pm
: Feed baby, hang out and wait for Daddy to get home.
4pm-5pm
: Daddy gets home! Commence hand-off. Tony misses the baby so much during the day, I barely see the kid for the next couple hours.
5pm-6pm
: Mommy and Daddy try to get some food.
6pm-7pm
: Feed baby, start thinking about heading upstairs for the night. I know, we are party animals.
7pm-9pm
: Head upstairs, give baby a bath and get him into fresh PJs, hang out as a family before bedtime.
Throughout the day I am usually listening to Sirius sattelite radio... Howard Stern in the morning (sorry Mom!), Acoustic or Classical late-morning and early afternoon, Country late afternoon. Des and I like to dance to country. :-) I'll watch TV sometimes too, but daytime TV is pretty awful. Unless there's a Real Housewives marathon. Still awful, but so addicting.
In between naps and feedings and diaper changes Des and I do a lot of walking around the house, "playing" on his activity mat, and making noises back and forth to eachother. But his interactions are still pretty minimal at this point.
Des usually wakes up 2-3 times during the night for feedings... lately just 2, which has been nice. Tony gives him a bottle for one of those feedings so I can get a good stretch of rest. Because he is not sleeping through the night yet, he's still in his bassinet at the end of our bed. We talk about transitioning him to the crib in his room, but I am putting up a fight. I didn't think I would be so reluctant, but I seriously want to cry when I think about it! Which is ridiculous. His crib is literally 20 feet away in the next room.
How I am going to leave him at daycare for 8 hours a day in a few weeks is beyond comprehension.
It's amazing how quickly the days and weeks have flown. It may seem like a boring schedule to some, but this has been the most joyful and fulfilling time of my life.
Happy 7 weeks of age, my little one!