The floors are done upstairs.
Do you mind if I say that one more time? Okay, here I go...
THE FLOORS ARE DONE UPSTAIRS.
Thanks. That felt too good to say just once.
And my rockstar husband did it all with his own two hands. And one very sore back. He researched everything, he bought the proper tools, and then he, as they say, 'got her done.' Little by little, row by row, Tony lay the dark wood planks over the level subflooring. (It might take me a while to stop stressing the 'level' part.) He spent weekends and weeknights working, when he could have been doing a million other much more enjoyable things I'm sure. And now the project that started it all is finally complete.
SAP ALERT: I realize how lucky I am to have a man in my life who takes the initiative to do these kinds of projects, as my mom loves to remind me (Hi Mom!). To do them well and to do them right. And when he doesn't know something, he gets someone else to do it, without being all, "Me man. Me strong and me know all! Grunt." Ya know?
He's a real good cuddler too. Teehee. Blush. Boof. /END SAP.
Anyway, we were so excited that the floors were done, we rolled out the area rugs we bought months ago and started to get the office set up. Now Tony has a place other than the kitchen island to do his school work.
Don't mind the temporary pads under the feet of the desk.
Desk and file cabinet are Craigslist finds... More on those in a future entry.

This will also be our guest room, otherwise known as "Chad's room." Here's Chad's bed.
Loki and Neely will keep it warm for him while he's on his New Zealand adventure.
I didn't take any pictures of the wall to the right, because it's covered with boxes. The boxes contain our new bed for the master which we bought back in November and have yet to set up... For obvious reasons.
Tony's standing in front of my closet here. The closets are another entry for another time. Lots to say about those. All good things, I assure you.
Master:
I still haven't decided if this rug works in here. It might be banished to the dining room. But we'll see once we get some other
stuff
in there.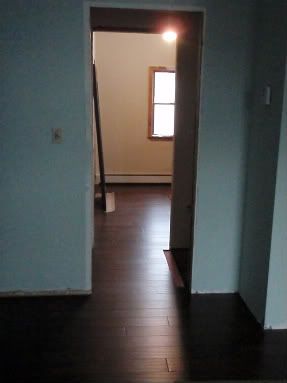 Looking across the hall to the office.