As BIG things continue to happen throughout the house, I thought I'd highlight a couple of the little things (comparitively) that have happened... Our closets.
As far as closets go, I have been spoiled. A few years back Tony broke through the wall of our bedroom to create a doorway into the adjacent space. A room that was previously used as an office/teeny-bedroom was transformed into the walk-in closet of my dreams. Both our dressers and all of our clothes, shoes, bags, etc. fit perfectly on their respective hook, hanger, or shelf.
My one regret is never taking a proper photo of that closet. It was impressive. Those who were lucky enough to witness the beauty can attest.
I have never considered myself an overly organized person, but this closet sparked something in me. Shoes were organized by occasion, heel height, then color. Shirts all had to face a certain direction, sweaters and jeans folded just so. And not just for my side (okay, my 3/4), but Tony's too. He was not always the best at keeping up with my rules, but it doesn't bother me. This boy used to grab single socks out of his drawer in the dark and hope they matched. I can't expect him to keep all his hangers facing inward and shirts buttoned down to the 3rd button.
With the reconfiguration of the upstairs, we built a new closet in each room. Tony would take the master closet, and I would take the bigger one in the office. It's not that I have a lot of stuff... okay, I do... But I swear, Tony would still be clinging to the flannel shirts and band tees of the 90's if I didn't buy him a few sweaters for his birthday every year. His closet needs are minimal.
We got rid of the old closet prior to building the new ones, so we were in limbo for a little while there. I had my dresser in the bedroom, Tony's was in the dining room. The rest of our clothes and shoes were in laundry baskets and trash bags. Not the best situation.
When the new closets were finally done, I went to town getting all my stuff in there. It was such a relief. These photos were taken soon after I had organized everything. There's more
stuff
in there now, but this gives you a good idea...
Color-coded tops, necklaces on a hook to the left: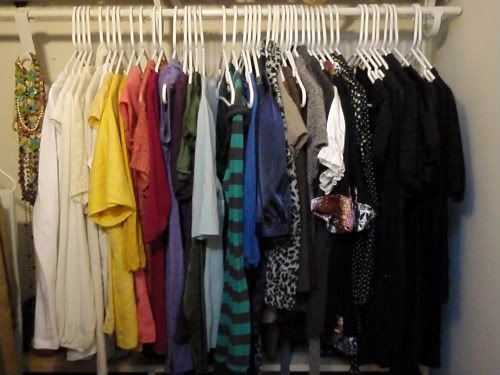 Bags:
Dresses, jackets, pants: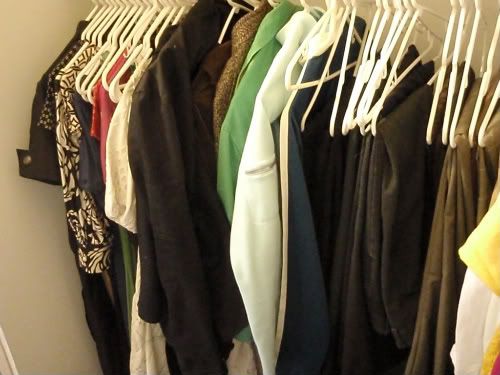 Jeans, etc. up top, sweaters below: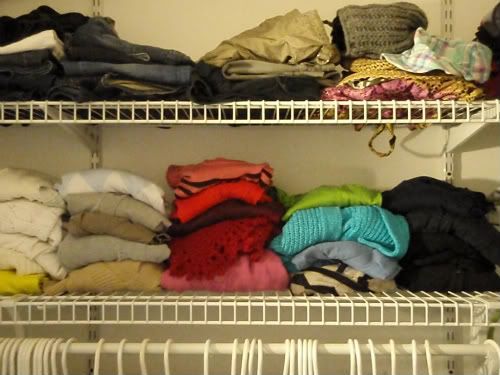 And the shoes:
Tony custom built the shoe shelves. Cool, right? They were meant to be painted white to go with the trim, but at that point I was just grateful to have a spot for them.
And here's Tony's closet:
Yawn.


Quite a shoe wardrobe, eh?
He built all the shelves in his closet too. Tony was able to completely get rid of his dresser, so his entire wardrobe fits into this space. And he still has room to spare.
To close, here is Neely hanging out in his new favorite spot... My dirty laundry basket: